CBD can be consumed via oil tincture, edibles, or applied topically, and dosage can vary depending on the person. In this article, we'll break down the different ways you can take CBD and which dosage may be right for you.
How Should I Take CBD?
There are 3 common ways for your body to absorb the benefits of CBD, which include:
Sublingually: Place oil under your tongue and allow the oil to stay there for up to a minute before swallowing.
Orally: You can take capsules or add CBD oil to your food or drink, as well as edibles with CBD infused in it, such as gummies or chocolate bars. You can also smoke the flower itself.
Topically: You can apply a lotion containing CBD directly to your skin and have it be absorbed that way.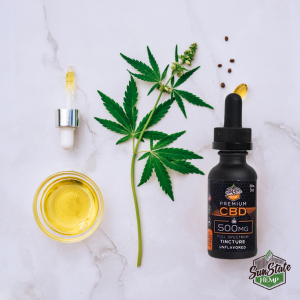 Benefits of the Different Ways to Take CBD
If you decide to absorb CBD sublingually, the benefits are that the cannabinoid gets absorbed directly into your bloodstream, meaning quicker results and thus a speedier path to relaxation and CBD's other health benefits. The downside, of course, is that the natural, earthy flavor of the oil may be off-putting to some people. This can be easily remedied, however, by purchasing a flavored tincture, such as our delicious Sun State Hemp CBD Peppermint and Orange Blossom Tinctures. Consuming it this way will make the experience seem more like you're having a sweet treat and eliminate the flavor of the plant itself.
If you consume CBD orally, the benefits are even more obvious. Whether it be gummies, chocolate, or the other plethora of options, this is certainly the tastiest way to enjoy CBD, though it can be a tad bit more expensive in the long run. But there's no harm in indulging every once in a while, right?
Finally, let's talk about topical applications. This is ideal for treating surface inflammation and skin issues such as acne and psoriasis. There really aren't any downsides to this method except for perhaps the fact that, well, it isn't chocolate now, is it?
Dosage can vary depending on the person, so it's recommended that you start with our recommended serving size and slowly work your way up from there. For people with generalized anxiety or sleep disorders, the dosage may need to be slightly higher. Somewhere between 25-75, milligrams is a good place to start. Roughly 40 milligrams should have a good effect for people seeking to treat physical pain and inflammation.
For more information on CBD, check out www.sunstatehemp.com and explore all of our different options, from edibles to creams and tinctures.