It's the biggest sporting event in the country – the time when we all get together, whether its in the living room, at your favorite watering hole, or at the stadium with other tailgaters, to watch the biggest game of the year. When you're getting ready for the big game, you need the best recipes, and of course – the best CBD!
Here at Sun State Hemp, we're bringing you some of our favorite recipes for incorporating CBD, so you can enjoy the big game in a creative and delicious way. Game on!
CBD Gummy Bear Lime Jello Shots
Who called for shots? These deliciously sweet and utterly delightful gummy bear jello shots are a game day must for you and your (21 and over) company to enjoy. Switching things up with our Full Spectrum Clear Bears is a perfect jello shot hack if you're looking to enjoy CBD at the same time.
INGREDIENTS
• 6 (2 oz) plastic shot cups with lids
• 1/2 (3 oz) box powered lime gelatin
• 1/2 cup boiling water
• 1/2 cup vodka, chilled
• Handful of Sun State Hemp Full Spectrum Infused Bears
This recipe is pretty straightforward. First things first, you'll place the plastic shot cups on a large baking sheet (without the lids on, so you can fill them easier later on). Add about 1-2 of our CBD Clear bears to each cup, before setting it aside.
Next, you'll pour the ½ box of the lime-flavored gelatin into a mixing bowl. Take the ½ cup of boiling water and add it to the gelatin mix, whisking it until the gelatin has fully dissolved. Once it's fully dissolved, you'll add the ½ cup of cold vodka and mix it thoroughly. Once mixed, you'll fill up the plastic shot cups, not quite to the top. Make sure that you leave a bit of room for adding in more bears if you want.
Now that the shot cups are filled, you'll place the baking sheet with the filled jello cups into the fridge and chill them for about 2 hours. At this point the jello shots will be set, but if you want to add more gummy bears before serving, you can.
That's all there is to it! These tasty jello shots are a perfect addition to your party, along with a welcome CBD gummy surprise. Enjoy responsibly!
CBD-Infused Cocktails
Everyone knows that an awesome party starts with awesome cocktails. And given the two cities involved, we've got just the blends for you and your (21 and over) friends to enjoy while watching the big game.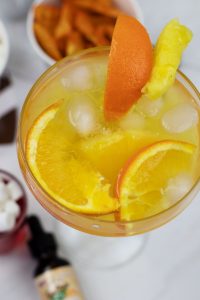 San Francisco
First up, this recipe is quite simple, but sure to delight your palate.
• 2 fl oz of your favorite vodka
• ½ fl oz of triple sec liqueur
• ½ fl oz banana liqueur
• 1 and a ½ fl oz of orange juice
• 1 and a ½ fl oz pineapple juice
• ¼ fl oz grenadine syrup
• One dropper (or as much as desired) of our Orange Blossom Full Spectrum Tincture
Simply combine all ingredients together, and shake with ice. Strain into your glass. Enjoy!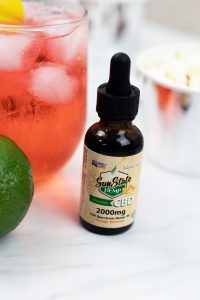 Chiefs Mule
We love this easy recipe, which creates a satisfying cocktail that's both smooth and delicious.
• 2 ounces of your favorite bourbon whiskey
• 2 ounces of cranberry juice
• 2 ounces of ginger beer
• One dropper (or as much as desired) of our Orange Blossom Full Spectrum Tincture
• Sun State Hemp Full Full Spectrum Sour Bears
You'll start by grabbing two glasses and adding the ice and ginger beer. In a cocktail shaker, mix together the whiskey and cranberry juice. Shake vigorously then pour. Garnish with CBD gummies.
We at Sun State Hemp hope everyone enjoys game day responsibly, and as always – may the best team win!