CBD has slowly been gaining popularity in the United States for its wide array of uses. One way to experience it is with our CBD gummy candies. We have taken everyone's favorite childhood candy and mixed with Organic CBD Hemp Oil. They come in a variety of different styles: gummy bears, gummy worms, gummy fruit slices, and many more. For those looking for a fun way to update their CBD intake, Sun State Hemp CBD gummies are your best bet! All of our gummies are rigorously tested and contain only pure Organic CBD Hemp Oil. Each bite is scrumptious and filled with CBD. Ensuring you get the perfect dose each time. Because we carry different style of CBD gummies, there are slight differences in what type of CBD our gummies come infused with. Below you will find some examples of our various types of CBD gummies.
CBD Nutritional Gummies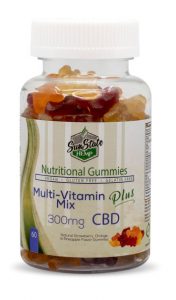 Our Nutritional Gummies add a sweet twist to taking your vitamins. Ranging from a Sugar Free Multi-Vitamin to the new Matcha Vitamin, each vitamin gummy is infused with CBD for a dose of tranquility.

CBD Isolate Gummies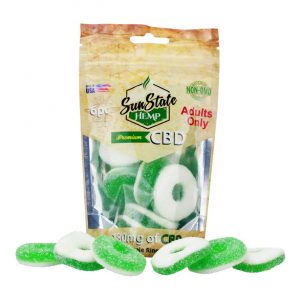 CBD gummies come in two main forms; Full Spectrum and Isolate. If you wish to experience CBD without other cannabinoids. CBD Isolate Gummies are what you are looking for. These gummy candies are infused with only 100% Organic CBD Hemp Oil, no fillers or additives. Pure CBD. Sweet tasting as well.
CBD Full Spectrum Gummies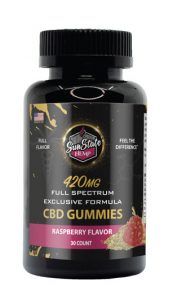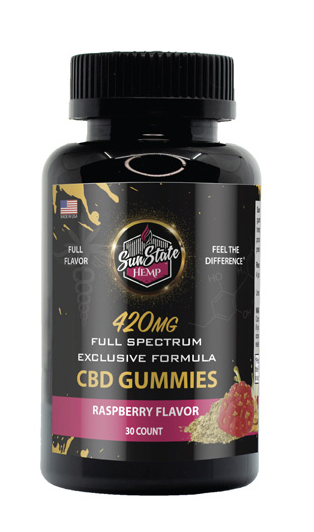 If you'd like to experience the full range of cannabinoids, you can grab our Full Spectrum Gummies, which come with all cannabinoids, including CBD, CBN, and small traces of THC. The CBD gummies are filled with sugary goodness!

---
CBD Gummies Candies FAQ
Are CBD edibles legal?
Absolutely! By law, you are allowed to use or have CBD in your possession.
Can CBD gummies be used for anxiety?
There have been studies showing how CBD may benefit those suffering from anxiety. CBD oil has been used to safely treat insomnia and anxiety in adults with post-traumatic stress disorder.
What are some other CBD benefits?
CBD may help alleviate pain, reduce the effects of depression, and may help reduce symptoms associated with cancer or the side effects from treatments. Research has also linked CBD to heart and circulatory health; helping lower blood pressure.
I've never tried CBD gummies. What can I expect?
If you've never tried CBD. There is nothing to be afraid of. CBD gummies is a safe way to try CBD and experience its effects on your health. Expect to have a delicious sugary bite of flavor and a calming sensation over time.